HAVE YOU BEEN ACCUSED OF:
Our Privacy Commitment To You
LibertyBell Law Group protects your privacy and attends to it very seriously. We make it easy for you to find, understand, and read our privacy commitment and policy. We gladly welcome any questions, concerns, and comments about our commitment to your privacy and encourage you to contact us here.
Every web Site visitor or person who contacts us by email, form submission, phone call, or any other means of communication can be fully assured we take extra measures to protect your personal information and keep it safe. We are wholly committed to protecting you and your privacy.
LIBERTYBELL LAW GROUP PRIVACY POLICY
This Privacy Policy describes the way we acquire information about our Users and Clients when you use our Sites and how we protect and use it. All visits to our Sites are subject to this Privacy Policy.
We guard and protect your personal information and privacy.
We do not sell your personal information to anyone.
Our privacy policy is fully displayed, easy to read and find by you.
You are in complete control of how we use your information for marketing and providing you with better services.
Online submission forms are sent to us via a secure email and read only by licensed attorneys for the purpose of providing you with a requested response. However, using the online submission form or this Site does not establish an attorney-client relationship.
Any direct conversations you have with any of our attorneys are protected by the Attorney-Client privilege. This protection is only legally afforded to you if you are speaking with a licensed attorney.
What Information Do We Collect
We collect two kinds of information related to you: (a) If you submit an online submission form to us we collect Personally Identifiable Information ("PII"). PII information is limited to the information you choose to include in the online submission form and submit to our attorneys.; (b) Non-Personally Identifiable Information ("Non-PII"), such as the type of browser you use (e.g. Internet Explorer), web pages that you had an interest in and visited and so on. Non-PII information is collected to help us make our Site better and to enhance your experience on our Site by providing you with a faster, safer, and improved visitor experience.
(a) Personally Identifiable Information: PII includes any information you choose to provide to us, such as your name and phone number. We collect your PII, which is the information you include on the online submission form when you type in any of our Site's submission forms and submit the information by pressing the button or when you choose to include your information in an interactive feature of our site such as a review, survey or promotion.
(b) Non-Personally Identifiable Information: Non-PII is any information that does not identify you as a person including PII which has been rendered anonymous. We obtain non-PII either separately or together with your PII as described above. We collect certain non-PII from you when you access our Sites including IP addresses and information relating to your browser, operating system, ISP, the third party website from which your visit originated and how you use our Sites such as the web pages you visit, and the duration of your visits.
How We Use the Information We Collect
PII and Non-PII is used to provide, or improve our Sites and Services to you and to carry out your requests, respond to your inquiries, better serve you and understand your needs, or is used in other ways naturally associated with the circumstances in which you provided the information.
Our third party service providers and partners who perform functions on our behalf in connection with the operation of this Site (e.g., host and manage data) are TRUSTe Privacy Sealed and fully compliant with the U.S.-E.U. Safe Harbor framework and the U.S.-Swiss Safe Harbor framework.
In addition, we use non-PII to help analyze site traffic, understand customer needs and trends, and carry out targeted promotional activities (see "Preference Based Advertising" below).
Cookies and Preference Based Advertising
(a) Cookies and Web Beacons: We and the third parties we authorize automatically receive and store certain types of non-PII whenever you interact with us by using "cookies" and analogous technology. "Cookies" are small files that are placed on your computer or your internet browser memory to enable the owner of the cookie to recognize your browser and to provide convenience and other features to you. So, for example, our cookies may allow us to show you the past services or interests you have searched for on our Sites. It is important to note that the cookies we use, or permit others to use, do not contain any PII and are not tied to any PII about you.
You may be able to direct your internet browser not to allow cookies and you can typically delete existing cookies from your computer at any time. Please note, however, some elements of our Sites will not function properly or be available to you.
(b) Preference Based Advertising: We also work with and permit certain third parties, including advertising networks and website analysis firms, to place cookies on your computer/browser when you visit our Sites. These third party cookies are used to gather non-PII about your activities on our Sites and third party sites to serve you with advertisements while you are on third party sites ("Third-Party Ads"). If you do not wish to participate in this activity, please remove or disable your third-party cookies to opt-out. To opt-out of third party ads, follow the instructions on removing or disabling third-party cookies found here.
Some important notes: (1) when opting out by removing or disabling cookies for Third-Party Ads that will include all the advertising networks that LibertyBell Law Group works with, but also many that LibertyBell Law Group does not work with; (2) opting out of Our Ads does not automatically serve as an opt-out from all Third-Party Ads – the same is true the other way around. To opt-out of Our Ads and Third-Party Ads, you must disable all cookies in all browsers you choose to use or simply do not visit sites that feature third party advertising. Keep in mind that some sites may not use cookies to display third party advertising; (3) Our Ads and Third-Party Ads rely on cookies to ensure your non-PII is not used for online advertising purposes. (4) If you buy a new computer, use a different computer, upgrade or change your web browser or delete these Cookies from your computer, you will need to perform the relevant opt-out tasks again, such as disabling or removing third-party cookies; and (5) the features of your internet browser and/or certain add-on software may allow you to block or limit the use of cookies for preference based advertising and other purposes.
If you delete or disable cookies, we cannot promise that our Sites, partner or other sites will work well or be compatible with these alternative methods of blocking or limiting the use of cookies. Many sites use information collected from cookies to improve their services and websites in order to make new web pages, make requested or desirable new site features, or improve on existing web pages. The goal of every website is that you come back and visit and hopefully become a loyal visitor or customer. One of the ways websites accomplish this is by continually making improvements to their websites in order to better serve you and provide you with better services.
Your Options & Opt-Outs
(b) What Choices Do I Have (Opt-Out)? You have many choices regarding how we use information about you, including: (1) to no longer communicate with us via email, you may simply reply to the email with "Do not reply" in the subject line or click here. Know that we do not send unsolicited emails. If you are not a current or past client, any email you receive from us will only be a response to your direct request, email inquiry, or online submission form.; (2) For instructions on how to opt-out of preference-based ads, by removing or permanently disabling third party cookies click here.; (4) You may also Opt-out of Preference Based Ads on Yahoo, Microsoft, and Google permanently.
(c) You May Contact Us with Questions: If you have any questions or concerns about privacy at LibertyBell Law group, please contact us by clicking here
Children
As neither our Sites nor our Services are intended for use by children under 13, children under 13 may not submit any PII to us. Also, if you are under 18, you should use LibertyBell Law Group and submit information only with involvement of a parent or guardian.
Revisions
This Privacy Policy may change from time to time to reflect our changing business practices. We will provide you notice of any such changes by posting the new policy on our Sites or by email if the changes are material.
Sole Statement
This Privacy Policy and our Disclaimer, both as posted on our Websites and through our Services, contain all of the material terms of regarding your use of our Websites and Services. No summary, modification, restatement or other version thereof, or other privacy statement or policy, in any form, is valid unless we post it to our Websites and Services.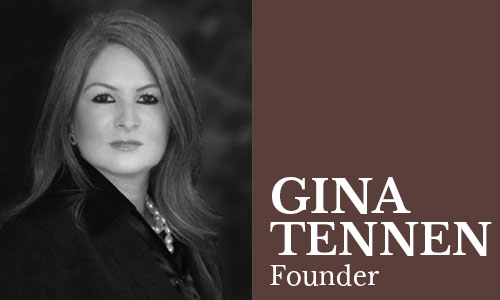 Gina Tennen
Founder
At A Glance
Expert legal strategist.
Experienced in both prosecution and defense.
Relentless fighter for her clients with results to prove it.
Received the National Top 100 Trial Lawyers Award
Featured in Time Magazine's "Leaders of Criminal Defense" in the 100 Most Influential People edition.
Executive Managing Attorney Gina Tennen is a renowned leading advocate of personal liberties. Her meticulous trial preparation and exceptional ability to pursue every possible defense has earned her the admiration of clients and respect from prosecutors, judges, and other criminal attorneys all over the nation.
Lawyer Tennen began her career as a Senior Law Clerk for one of the toughest District Attorney's offices in the country where she gained remarkable experience in juvenile crimes, elder abuse, parole hearings, child abuse, sex and other serious crimes. Her experience at the District Attorney's Office armed her knowledge and case strategy in exploiting the other side's weaknesses for the client's advantage and building a rock solid defense. Criminal attorney Tennen's experience on both sides and brilliant maneuvering throughout is evidenced in her winning track record. In fact, even before earning her law degree, she was instrumental in getting excellent results on several criminal cases outshining her peers.
A consummate strategist and top criminal attorney, lawyer Tennen works tirelessly on many high profile criminal cases. She is known as a relentless fighter who never gives up on any case. Whether the case is hers or handled by another criminal defense attorney from LibertyBell Law Group, no matter how small the case may seem she asserts that every client deserves the right to the best legal representation.
It is her deep belief and what she has built her entire career and lifelong dedication to that there is always hope for every client and every avenue should be pursued regardless of the time and energy it takes. For criminal attorney, Gina Tennen, devoting the finest criminal defense for clients is a habit and talent that you must apply and do all the time.
You demand the best defense. Take hold of your life and speak to our defense attorneys by calling 855-LAW-PRO1 (855-529-7761) now.
Founder Gina Tennen and all the defense attorneys at LibertyBell Law Group uphold that when the bell rings, it rings for life and liberty for all.
Diana Ivanova
Director of Client Affairs
Los Angeles Criminal Defense Attorney Diana Ivanova is an Associate at LibertyBell Law Group, who specializes in complex criminal matters in state and federal courts nationwide.
Ms. Ivanova's aggressive defense of her clients' freedoms and rights has earned her a reputation as both a zealous and successful criminal defense trial attorney in all criminal defense matters. She provides tenacious representation in both state and federal courts for those facing serious charges of sex crimes, federal violations, drug crimes, homicide, violence, white-collar crime, DUI and more. Ms. Ivanova has also successfully litigated some of the largest violence crimes in Los Angeles.
Even if an arrest has been made, Ms. Ivanova focuses on getting charges dropped before formal charging in court. It is important for a criminal defense professional to intervene early and aggressively, as she does.
Ms. Ivanova is a member of multiple legal associations. In addition to being a tough and fearless advocate in criminal defense cases, she genuinely cares about her clients and fights each case with unparalleled skill and determination to obtain the best possible outcome.
Call 855-LAW-PRO1 (855-529-7761) to speak to lawyer Ivanova now. You may also email her at info@LibertyBellLaw.com.
REQUEST A FREE CONSULTATION