HAVE YOU BEEN ACCUSED OF:
Date Rape
Date Rape involves the act of rape in which the victim has a casual or pre-existing relationship with the offender such as a dating. Lawyers know that even if you had a prior sexual relationship with the victim, you can still be accused of date rape if the victim says there was non-consensual sex on even one occasion.
Many people mistakenly believe the police will not investigate an allegation of date rape where the individuals have a prior sexual relationship. Many people also mistakenly believe they cannot be convicted if there is no DNA evidence or other concrete evidence corroborating the victim's accusation. This is not true. Criminal Lawyers know you can be convicted when the only evidence is the victim's word.
When charged with date rape, the mere accusation can devastate your life, cause serious harm to your reputation, career and relationships. A date rape conviction can haunt you for life. If found guilty, lifetime sex offender registration will be required of you, aside from the severe criminal penalties. Regardless of the severity or circumstances of your offense, your sex offender registration becomes public record, and your neighbors, friends, family, and employers will be able to see this identification indefinitely.
RECENT WINS IN SEX CASES:
DEFENSE FOR DATE RAPE
Date rape trials usually involve the word of the accused against the victim's word. Top attorneys advise against pleading guilty early in these cases. Instead, your lawyers should plan a strong defense that will overwhelm the prosecution.
Physical evidence may be available immediately after the alleged act. This evidence can be used in your defense if you obtain an effective defense team of attorneys immediately.
Rape trials are often "he said, she said" contests in which evidence is solely the word of the victim. The outcome of a rape trial depends in large part on the attorneys involved and should be fought aggressively to avoid lifetime sex offender registration and harsh prison sentences.
Rape defense is different from other areas of criminal law and requires very specific techniques and experience by top attorneys. An effective defense team of lawyers often employs psychologists, medical experts, private investigators with the expertise to be most effective.
One defense strategy used by lawyers is to deny the sexual act occurred or that the sexual act did not involve the defendant. DNA and other forensic evidence may be used to support this defense. Another strategy lawyers use is to argue the act was consensual. This requires skilled argumentation by your attorney and may depend strongly on the use of psychologists, character witnesses and expert private investigation services.
LibertyBell Law Group was founded by a group of criminal defense attorneys who have a track record of winning cases. Our attorneys grew frustrated that people suffer life-altering consequences because they can not mount an adequate defense.
Our lawyers united to level the playing field. We hand-picked only the foremost expert lawyers in rape defense. Our attorneys have extensive experience in sensitive and highly challenging date rape and sexual assault cases.
Our lawyers are legal veterans with all the resources they need to get the best possible results for you. Our attorneys are a powerful legal defense force that is available and affordable to you.
CALL OUR CRIMINAL ATTORNEYS NOW
You can now draw on the combined talents and resources of a large group of attorneys with one goal — getting the best ending for your case. Our attorneys defend you both inside and outside of court.
Call us now at 855-LAW-PRO1 (855-529-7761) for a free consultation with one of our top criminal attorneys.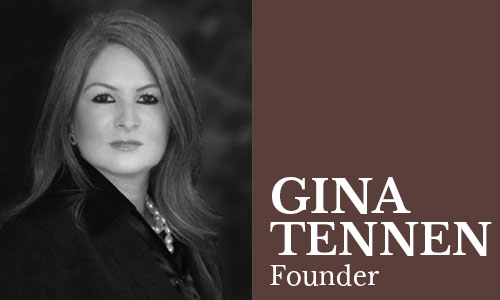 Gina Tennen
Founder
At A Glance
Expert legal strategist.
Experienced in both prosecution and defense.
Relentless fighter for her clients with results to prove it.
Received the National Top 100 Trial Lawyers Award
Featured in Time Magazine's "Leaders of Criminal Defense" in the 100 Most Influential People edition.
Executive Managing Attorney Gina Tennen is a renowned leading advocate of personal liberties. Her meticulous trial preparation and exceptional ability to pursue every possible defense has earned her the admiration of clients and respect from prosecutors, judges, and other criminal attorneys all over the nation.
Lawyer Tennen began her career as a Senior Law Clerk for one of the toughest District Attorney's offices in the country where she gained remarkable experience in juvenile crimes, elder abuse, parole hearings, child abuse, sex and other serious crimes. Her experience at the District Attorney's Office armed her knowledge and case strategy in exploiting the other side's weaknesses for the client's advantage and building a rock solid defense. Criminal attorney Tennen's experience on both sides and brilliant maneuvering throughout is evidenced in her winning track record. In fact, even before earning her law degree, she was instrumental in getting excellent results on several criminal cases outshining her peers.
A consummate strategist and top criminal attorney, lawyer Tennen works tirelessly on many high profile criminal cases. She is known as a relentless fighter who never gives up on any case. Whether the case is hers or handled by another criminal defense attorney from LibertyBell Law Group, no matter how small the case may seem she asserts that every client deserves the right to the best legal representation.
It is her deep belief and what she has built her entire career and lifelong dedication to that there is always hope for every client and every avenue should be pursued regardless of the time and energy it takes. For criminal attorney, Gina Tennen, devoting the finest criminal defense for clients is a habit and talent that you must apply and do all the time.
You demand the best defense. Take hold of your life and speak to our defense attorneys by calling 855-LAW-PRO1 (855-529-7761) now.
Founder Gina Tennen and all the defense attorneys at LibertyBell Law Group uphold that when the bell rings, it rings for life and liberty for all.
Diana Ivanova
Associate Attorney & Director of Client Affairs
Los Angeles Criminal Defense Attorney Diana Ivanova is an Associate at LibertyBell Law Group, who specializes in complex criminal matters in state and federal courts nationwide.
Ms. Ivanova's aggressive defense of her clients' freedoms and rights has earned her a reputation as both a zealous and successful criminal defense trial attorney in all criminal defense matters. She provides tenacious representation in both state and federal courts for those facing serious charges of sex crimes, federal violations, drug crimes, homicide, violence, white-collar crime, DUI and more. Ms. Ivanova has also successfully litigated some of the largest violence crimes in Los Angeles.
Even if an arrest has been made, Ms. Ivanova focuses on getting charges dropped before formal charging in court. It is important for a criminal defense professional to intervene early and aggressively, as she does.
Ms. Ivanova is a member of multiple legal associations. In addition to being a tough and fearless advocate in criminal defense cases, she genuinely cares about her clients and fights each case with unparalleled skill and determination to obtain the best possible outcome.
Call 855-LAW-PRO1 (855-529-7761) to speak to Diana now. You may also email her at info@LibertyBellLaw.com.

REQUEST A FREE CONSULTATION