HAVE YOU BEEN ACCUSED OF:
Obscenity
Obscenity laws generally prohibit the sale or distribution of obscene material, though states vary widely in what is regarded as obscene. Most obscenity laws act as a way to control obscenity by declaring what is legally obscene, indecent, or simply offensive. Lawyers know that anything offensive to morals may be referred to as obscenity and sometimes it is equated with pornography. United States courts have had difficulty defining exactly what is offensive or not in regards to obscenity laws.
RECENT WINS IN SEX CASES:
WHAT IS ILLEGAL OBSCENITY & PORNOGRAPHY?
Obscenity is illegal in every state. If a work is legally declared as obscene then it may be censored and its producers may face penalities. The U.S. Supreme Court developed the Miller Test, in 1973, for determining what is obscene. The Miller Test, also called the Three Prong Obscenity Test, consists of three parts and when all the three conditions below are satisfied then the work is considered obscene.
Whether the "average person applying contemporary community standards" find the whole work appealing to prurient interests.
Whether the work depict or describe, in a patently offensive manner, sexual conduct specifically defined in state law.
Whether the work, taken as a whole, lacks serious literary, artistic, policital or scientific value.
When pornographic material is distributed in an unsolicited manner or put on public display a criminal investigation of obscenity can occur. Generally speaking, obscene items are anything that meets all three parts of the Miller Test above. Most states regard obscenity as anything that is sex related and goes beyond mere nudity. When pornography becomes obscene it becomes subject to federal and state laws and censorship. All pornography and obscene materials that involve children are illegal in all states and carry some of the most severe and stringent penalties.
Distribution or display of pornographic or obscene materials may be prosecuted as a relatively minor misdemeanor. However, if such material is distributed over the Internet, federal charges of Internet Pornography can be made. If the materials involve images or descriptions of minors, serious child pornography charges can be filed. If obscene or pornographic materials are shown or distributed to children or minors a serious charge of distribution of pornography or lewd and lascivious conduct can apply.
The mere accusation of a sex charge can have a devastating effect on your life, including serious harm to your reputation, career and personal relationships. If convicted, you can face a lifetime registration as a sex offender and severe criminal penalties. A conviction can follow you for the rest of your life, and convictions can occur even when the only evidence is the victim's word.
OBSCENITY DEFENSE!
The defense of sex crime cases is a highly specialized area requiring specific strategies and a defense team of criminal lawyers with experience defending obscenity and illegal or child pornography.
When pornographic materials involve computers or the Internet, your criminal attorneys needs cybercrime defense experience and technical knowledge about computers. It is also important to have a federal attorney on your team in the event that the FBI chooses to file a case against you.
Internet Pornography is aggressively prosecuted by the Federal government with severe sentencing penalties.
An obvious strategy is to deny that you created or knowingly possessed pornographic images. As with all pornography cases, there is not always a clear definition of what types of images are considered to be "pornographic." This subjectivity, along with the means by which evidence was collected against you, may form important parts of your defense strategy.
With crimes involving computers, it is important to understand that there are many ways that pornographic or obscene images can be placed on your computer without your knowledge. An experienced pornography defense attorney will understand this and thoroughly pursue this possible defense.
LibertyBell Law Group was founded by a group of criminal defense attorneys who have a track record of generating results. We grew frustrated with the fact that thousands of people still suffer life-altering consequences because they do not have the ability to mount an adequate defense.
We created this law firm to level the playing field. We hand-picked only the foremost experts in sex crimes defense. Our lawyers have extensive experience and an impressive track record of results in sensitive and highly challenging sex crime cases.
Our top attorneys are legal veterans with all of the resources they need to get the best possible results for our clients. Our powerful legal defense force of lawyers are available and affordable.
CALL OUR CRIMINAL ATTORNEYS NOW
As a client, you can now draw on the combined talents and resources of a huge team of criminal lawyers with one goal — getting the best possible result for your case. We stand ready to defend you both inside and outside the courtroom.
Call us now at 855-LAW-PRO1 (855-529-7761) for a free consultation with one of our top criminal attorneys. Early intervention is the key to our mutual success.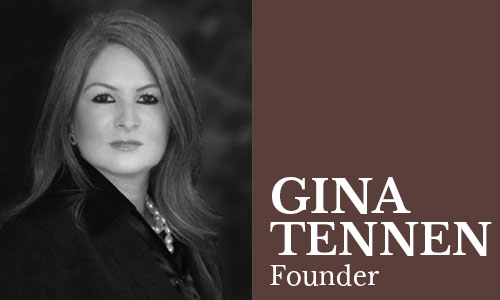 Gina Tennen
Founder
Founding partner and criminal defense attorney, Gina Tennen, is a leading advocate of personal freedom and individual rights. Her meticulous trial preparation and her exceptional ability to integrate an aggressive, thorough defense, has earned her the admiration of clients and the respect of prosecutors, judges and other criminal lawyers across the country.
She is an astute strategist and powerful advocate who works tirelessly to protect the rights of her clients. She has earned a long-standing reputation as a relentless fighter who never surrenders in any case and has represented many high-profile criminal cases.
Diana Ivanova
Associate Attorney & Director of Client Affairs
Los Angeles Criminal Defense Attorney Diana Ivanova is an Associate at LibertyBell Law Group, who specializes in complex criminal matters in state and federal courts nationwide.
Ms. Ivanova's aggressive defense of her clients' freedoms and rights has earned her a reputation as both a zealous and successful criminal defense trial attorney in all criminal defense matters. She provides tenacious representation in both state and federal courts for those facing serious charges of sex crimes, federal violations, drug crimes, homicide, violence, white-collar crime, DUI and more. Ms. Ivanova has also successfully litigated some of the largest violence crimes in Los Angeles.
Even if an arrest has been made, Ms. Ivanova focuses on getting charges dropped before formal charging in court. It is important for a criminal defense professional to intervene early and aggressively, as she does.
Ms. Ivanova is a member of multiple legal associations. In addition to being a tough and fearless advocate in criminal defense cases, she genuinely cares about her clients and fights each case with unparalleled skill and determination to obtain the best possible outcome.
Call 855-LAW-PRO1 (855-529-7761) to speak to Diana now. You may also email her at info@LibertyBellLaw.com.

REQUEST A FREE CONSULTATION