HAVE YOU BEEN ACCUSED OF:
Internet Crime or Computer Hacking
Internet criminal lawyers from LibertyBell Law Group work on a team with criminal defense experts that specialize in cyber cases and laws. A cyber crime is one that occurs via the internet. Many types of internet offenses exist including:
FACING CHARGES OF COMPUTER HACKING
Computer Hacking refers to the act of gaining unauthorized access to computer systems for the purpose of stealing, altering or corrupting data. Internet crime such as internet-terrorism and theft may involve computer hacking to gain access to the private network of an organization. Often the access to such confidential information results in pecuniary gain. Computer hacking and internet offenses may cross state borders as computers are often located in different states and are thus prosecuted in federal courts. State and federal attorneys from LibertyBell Law Group have a track record of winning internet cases and getting the best outcome for each client that stems from having the top internet criminal lawyers and experts in the country.
Because the FCC holds jurisdiction over the Internet, a defendant is subject to Federal Prosecution, leaving him or her again exposed to the severe Federal Sentencing guidelines. If you suspect you may be charged or under investigation by the federal government, it is critical you obtain the services of experienced federal criminal defense lawyers.
INTERNET CRIME & COMPUTER HACKING PENALTIES
The most common penalty is restitution in order to compensate those who suffered financial loss due to the hacking, network, or internet offenses. Because of the considerable financial damage that can result from computer hacking actions, the restitution amount can be quite substantial, and prison terms are not uncommon. If the defendant has committed a prior criminal offense, especially if it involved the downloading or sharing of child pornography over the internet or it involving the luring of a minor or child, a defendant may be subject to severe criminal enhancements in sentencing if convicted. The consequences and penalties of an internet offense may include:
Heavy fines
Prison
Restitution
Community Service
Probation
An experienced internet criminal attorney can often be instrumental in minimizing associated penalties and fines, saving the defendant thousands or even hundreds of thousands of dollars. An experienced criminal attorney can also help work out reasonable payment plans that actually allow for the defendant to pay the damages back over a reasonable time period, often while keeping the defendant out of jail or prison.
DEFENSE!
Your criminal lawyer should always consider the possibility of trial in your case, particularly if you did not commit the alleged offense. A trial does not only establish whether you broke the law; it also is used to establish the monetary amount of loss.
Computer hacking charges can carry penalties that may seem extremely severe for the actual act involved. Defending these charges requires a defense team with internet experience.
Remember it is up to the prosecution to prove the amount of actual loss. A strong aggressive criminal attorney along with his team of forensic accountants and experts can make tremendous impact on the result of your case.
Pre-trial preparation is the key to successful defense of internet charges. Your defense team needs to have the experience and expertise to examine computer logs and records to determine which evidence is relevant to your case and how they might be used for your defense. This investigation generally requires discovery motions to compel prosecutors, employers, banks and other institutions to turn over records that can be used in your defense.
Because of the time and specialized skills involved, mounting a criminal defense requires a team, not just a single attorney. Prosecutors generally pursue cases they feel they can prove in trial. This is why it is critical to dig even deeper than the prosecution and inject the reasonable doubt that will let you win in the courtroom if necessary.
CRIMINAL LAWYERS THAT WIN
The obvious goal of our criminal lawyers is to get charges against you dismissed or, barring that, get a not guilty verdict.
In the event that it is not possible to disprove a specific charge against you, our criminal attorneys can be extremely helpful at sentence reduction. The complexity of white collar cases creates many opportunities for plea bargains, and the lattitude that state court judges can have makes it possible to greatly reduce sentences and penalties.
At LibertyBell Law Group, we have assembled a team of criminal attorneys with experience defending against white collar criminal charges, such as computer hacking. Our experience spans state courtrooms across the country and the federal court system. Our criminal lawyers have successfully defended clients in cases involving millions of dollars and multiple years of defense work.
LEARN MORE ABOUT OUR CRIMINAL ATTORNEYS
CALL OUR CRIMINAL ATTORNEYS NOW
Call us now at 855-LAW-PRO1 (855-529-7761) for a free consultation with one of our criminal attorneys. We stand ready to defend you both inside and outside the courtroom. Early intervention is the key to our mutual success.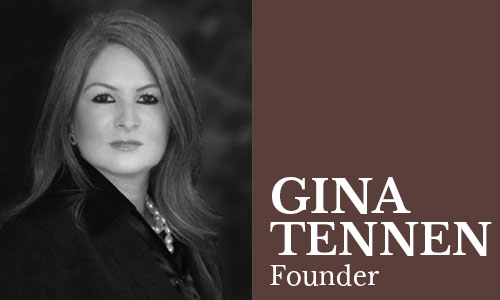 Gina Tennen
Founder
At A Glance
Expert legal strategist.
Experienced in both prosecution and defense.
Relentless fighter for her clients with results to prove it.
Received the National Top 100 Trial Lawyers Award
Featured in Time Magazine's "Leaders of Criminal Defense" in the 100 Most Influential People edition.
Executive Managing Attorney Gina Tennen is a renowned leading advocate of personal liberties. Her meticulous trial preparation and exceptional ability to pursue every possible defense has earned her the admiration of clients and respect from prosecutors, judges, and other criminal attorneys all over the nation.
Lawyer Tennen began her career as a Senior Law Clerk for one of the toughest District Attorney's offices in the country where she gained remarkable experience in juvenile crimes, elder abuse, parole hearings, child abuse, sex and other serious crimes. Her experience at the District Attorney's Office armed her knowledge and case strategy in exploiting the other side's weaknesses for the client's advantage and building a rock solid defense. Criminal attorney Tennen's experience on both sides and brilliant maneuvering throughout is evidenced in her winning track record. In fact, even before earning her law degree, she was instrumental in getting excellent results on several criminal cases outshining her peers.
A consummate strategist and top criminal attorney, lawyer Tennen works tirelessly on many high profile criminal cases. She is known as a relentless fighter who never gives up on any case. Whether the case is hers or handled by another criminal defense attorney from LibertyBell Law Group, no matter how small the case may seem she asserts that every client deserves the right to the best legal representation.
It is her deep belief and what she has built her entire career and lifelong dedication to that there is always hope for every client and every avenue should be pursued regardless of the time and energy it takes. For criminal attorney, Gina Tennen, devoting the finest criminal defense for clients is a habit and talent that you must apply and do all the time.
You demand the best defense. Take hold of your life and speak to our defense attorneys by calling 855-LAW-PRO1 (855-529-7761) now.
Founder Gina Tennen and all the defense attorneys at LibertyBell Law Group uphold that when the bell rings, it rings for life and liberty for all.
Diana Ivanova
Associate Attorney & Director of Client Affairs
Los Angeles Criminal Defense Attorney Diana Ivanova is an Associate at LibertyBell Law Group, who specializes in complex criminal matters in state and federal courts nationwide.
Ms. Ivanova's aggressive defense of her clients' freedoms and rights has earned her a reputation as both a zealous and successful criminal defense trial attorney in all criminal defense matters. She provides tenacious representation in both state and federal courts for those facing serious charges of sex crimes, federal violations, drug crimes, homicide, violence, white-collar crime, DUI and more. Ms. Ivanova has also successfully litigated some of the largest violence crimes in Los Angeles.
Even if an arrest has been made, Ms. Ivanova focuses on getting charges dropped before formal charging in court. It is important for a criminal defense professional to intervene early and aggressively, as she does.
Ms. Ivanova is a member of multiple legal associations. In addition to being a tough and fearless advocate in criminal defense cases, she genuinely cares about her clients and fights each case with unparalleled skill and determination to obtain the best possible outcome.
Call 855-LAW-PRO1 (855-529-7761) to speak to Diana now. You may also email her at info@LibertyBellLaw.com.

REQUEST A FREE CONSULTATION