Immigration
The Immigration Laws are very simple and clear. It determines who can enter the United States, how long they can stay, and when they must leave.
The federal immigration laws determine a foreigner's rights, duties and obligations, and how they can obtain residency or citizenship within the United States. It also provides the means by which certain foreigners can become legally naturalized citizens with full citizenship rights. By controlling the visa process, the federal government can achieve the goals of its immigration policies.
The United States government may initiate deportation proceedings against aliens admitted under the INA who commit an aggravated felony within the United States. Failure of a foreigner to register, or provide a change of address, may cause them to be deported unless there is a valid and acceptable reason. If the government determines that a particular foreigner entered the country through the use of a falsified or otherwise fraudulent document, the government has the grounds to deport.
Some other grounds for deportation are as follows:

Help or encourage another foreigner to enter the country illegally
Being part of a fraudulent marriage solely for admission to the United States
Participate in an activity that threatens US national security.
Failure to update the government with a residential address every three months regardless of whether the address has changed
Vote illegally
Immediate relatives are top of the list when it comes to qualifying for green cards (visa) and receiving them quickly. This category includes:
Spouses of US citizens, widows and recent widowers, including spouses of the same sex if the marriage is considered legally valid.
Single persons under 21 years of age with at least one US citizen parent.
Parents of US citizens, if the US citizen child is at least 21 years of age.
Stepchildren and stepparent of US citizens, if the marriage that created the step-parent / stepchild relationship took place before the child turned 18.
Children adopted by US citizens or permanent residents, if the adoption took place before the child reached the age of 16 and other conditions are met.
An unlimited number of visas are available to immediate family members of American citizens who make the request for them. Applicants can obtain a visa as soon as they arrive and make an application.
Visas
There are two types of visas: immigrant visas and nonimmigrant visas. The government mainly issues nonimmigrant visas to tourists and temporary business visitors. The government divides nonimmigrant visas into eighteen different types, but for most types, it does not impose a cap on the number of visas that can be issued in a year. Only a few categories of nonimmigrant visas allow their holders to work in the United States. Immigrant visas, on the other hand, allow their holders to remain permanently in the United States and eventually apply for citizenship. Foreigners with immigrant visas can also work in the United States. Congress limits the number of immigrant visas, which amounted to 675,000 in 1995. Many immigrant visas remain subject to country limits.
You must choose the specific purpose of your trip (such as tourism or going to a school) and apply for a specialized visa that authorizes that activity and no other. Each type of nonimmigrant visa is identified by a combination of letters and numbers. You may already be familiar with the most popular ones.
Types of nonimmigrant visas

B-2, tourist visitor
E-2, investor
F-1, academic or language student
H-1B, specialized worker
CALL OUR DEFENSE ATTORNEYS NOW
As a client, you can now turn to both the talents and the resources of very successful lawyers with a goal of obtaining the best results in your case. Our best lawyers are ready to defend you both inside and outside the courtroom.
Early intervention is the key to our mutual success. Call our criminal attorneys now at (855) 529-7761 for a free consultation.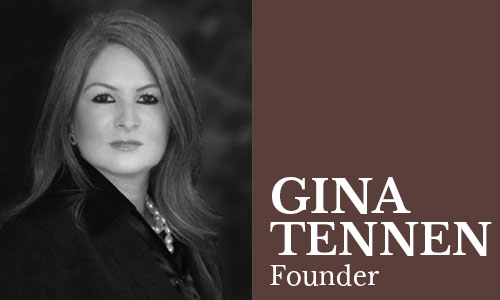 Gina Tennen
Founder
At A Glance
Expert legal strategist.
Experienced in both prosecution and defense.
Relentless fighter for her clients with results to prove it.
Received the National Top 100 Trial Lawyers Award
Featured in Time Magazine's "Leaders of Criminal Defense" in the 100 Most Influential People edition.
Executive Managing Attorney Gina Tennen is a renowned leading advocate of personal liberties. Her meticulous trial preparation and exceptional ability to pursue every possible defense has earned her the admiration of clients and respect from prosecutors, judges, and other criminal attorneys all over the nation.
Lawyer Tennen began her career as a Senior Law Clerk for one of the toughest District Attorney's offices in the country where she gained remarkable experience in juvenile crimes, elder abuse, parole hearings, child abuse, sex and other serious crimes. Her experience at the District Attorney's Office armed her knowledge and case strategy in exploiting the other side's weaknesses for the client's advantage and building a rock solid defense. Criminal attorney Tennen's experience on both sides and brilliant maneuvering throughout is evidenced in her winning track record. In fact, even before earning her law degree, she was instrumental in getting excellent results on several criminal cases outshining her peers.
A consummate strategist and top criminal attorney, lawyer Tennen works tirelessly on many high profile criminal cases. She is known as a relentless fighter who never gives up on any case. Whether the case is hers or handled by another criminal defense attorney from LibertyBell Law Group, no matter how small the case may seem she asserts that every client deserves the right to the best legal representation.
It is her deep belief and what she has built her entire career and lifelong dedication to that there is always hope for every client and every avenue should be pursued regardless of the time and energy it takes. For criminal attorney, Gina Tennen, devoting the finest criminal defense for clients is a habit and talent that you must apply and do all the time.
You demand the best defense. Take hold of your life and speak to our defense attorneys by calling 855-LAW-PRO1 (855-529-7761) now.
Founder Gina Tennen and all the defense attorneys at LibertyBell Law Group uphold that when the bell rings, it rings for life and liberty for all.
Diana Ivanova
Associate Attorney & Director of Client Affairs
Los Angeles Criminal Defense Attorney Diana Ivanova is an Associate at LibertyBell Law Group, who specializes in complex criminal matters in state and federal courts nationwide.
Ms. Ivanova's aggressive defense of her clients' freedoms and rights has earned her a reputation as both a zealous and successful criminal defense trial attorney in all criminal defense matters. She provides tenacious representation in both state and federal courts for those facing serious charges of sex crimes, federal violations, drug crimes, homicide, violence, white-collar crime, DUI and more. Ms. Ivanova has also successfully litigated some of the largest violence crimes in Los Angeles.
Even if an arrest has been made, Ms. Ivanova focuses on getting charges dropped before formal charging in court. It is important for a criminal defense professional to intervene early and aggressively, as she does.
Ms. Ivanova is a member of multiple legal associations. In addition to being a tough and fearless advocate in criminal defense cases, she genuinely cares about her clients and fights each case with unparalleled skill and determination to obtain the best possible outcome.
Call 855-LAW-PRO1 (855-529-7761) to speak to Diana now. You may also email her at info@LibertyBellLaw.com.

REQUEST A FREE CONSULTATION