HAVE YOU BEEN ACCUSED OF:
Arson
Arson is the act of intentionally burning any type of structure, such as a building or home. Arson generally also includes the burning of forest land or brush.
The severity of an arson charge and penalty generally depends on such factors as whether buildings were burned, whether they were occupied and whether insurance fraud was involved. As a general rule, more severe fire damage generally results in more aggressive prosecution with more severe penalties.
Arson charges are taken very seriously and usually involve prison terms and expensive bail amounts or no bail at all. Arson can result in multiple counts depending on the number of structures involved and can lead to other more serious charges such as murder and insurance fraud depending on the damage inflicted. The stakes are higher in arson than in other type of offenses.
Arson is both a state and federal crime. It is important to know whether you are facing state or federal charges, as this will require a different defense team and strategy. Federal charges typically put you up against a larger and more experienced team of prosecution lawyers and carry severe mandatory prison sentences.
ARSON DEFENSE!
One of the keys to a successful defense of arson is to have criminal lawyers intervene during pre-trial investigation. Effective investigation can uncover mistakes the prosecution has made, identify evidence in your favor and allow the use of tools such as polygraph tests and expert witnesses. A winning team of criminal lawyers will obtain access to the crime team and bring its own private arson investigators to the case.
The prosecution has experienced investigators whose only goal is to prove you guilty while giving you an overburdened public defender our court-appointed attorney to save your life.
Defending against arson charges requires thorough pre-trial investigation to add reasonable doubt. Our criminal lawyers prepare every case for trial . We will not rush to plea your rights away.
Mounting a successful defense requires pack of criminal lawyers and arson experts, not just a single attorney. Prosecutors will not pursue cases they feel they can't prove in trial. This is why it is critical to dig even deeper than the prosecution and inject reasonable doubt that will let you win in the courtroom if necessary.
At LibertyBell Law Group, we have assembled a team of criminal attorneys with experience defending against arson charges.
LEARN MORE ABOUT OUR DEFESE LAWYERS
CALL OUR CRIMINAL ATTORNEYS NOW
Call us now at 855-LAW-PRO1 (855-52-7761) for a free consultation with one of our criminal attorneys. We stand ready to defend you both inside and outside the courtroom. Early intervention is the key to our mutual success.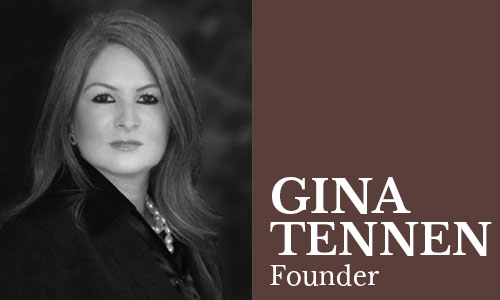 Gina Tennen
Founder
At A Glance
Expert legal strategist.
Experienced in both prosecution and defense.
Relentless fighter for her clients with results to prove it.
Received the National Top 100 Trial Lawyers Award
Featured in Time Magazine's "Leaders of Criminal Defense" in the 100 Most Influential People edition.
Executive Managing Attorney Gina Tennen is a renowned leading advocate of personal liberties. Her meticulous trial preparation and exceptional ability to pursue every possible defense has earned her the admiration of clients and respect from prosecutors, judges, and other criminal attorneys all over the nation.
Lawyer Tennen began her career as a Senior Law Clerk for one of the toughest District Attorney's offices in the country where she gained remarkable experience in juvenile crimes, elder abuse, parole hearings, child abuse, sex and other serious crimes. Her experience at the District Attorney's Office armed her knowledge and case strategy in exploiting the other side's weaknesses for the client's advantage and building a rock solid defense. Criminal attorney Tennen's experience on both sides and brilliant maneuvering throughout is evidenced in her winning track record. In fact, even before earning her law degree, she was instrumental in getting excellent results on several criminal cases outshining her peers.
A consummate strategist and top criminal attorney, lawyer Tennen works tirelessly on many high profile criminal cases. She is known as a relentless fighter who never gives up on any case. Whether the case is hers or handled by another criminal defense attorney from LibertyBell Law Group, no matter how small the case may seem she asserts that every client deserves the right to the best legal representation.
It is her deep belief and what she has built her entire career and lifelong dedication to that there is always hope for every client and every avenue should be pursued regardless of the time and energy it takes. For criminal attorney, Gina Tennen, devoting the finest criminal defense for clients is a habit and talent that you must apply and do all the time.
You demand the best defense. Take hold of your life and speak to our defense attorneys by calling 855-LAW-PRO1 (855-529-7761) now.
Founder Gina Tennen and all the defense attorneys at LibertyBell Law Group uphold that when the bell rings, it rings for life and liberty for all.
Diana Ivanova
Associate Attorney & Director of Client Affairs
Los Angeles Criminal Defense Attorney Diana Ivanova is an Associate at LibertyBell Law Group, who specializes in complex criminal matters in state and federal courts nationwide.
Ms. Ivanova's aggressive defense of her clients' freedoms and rights has earned her a reputation as both a zealous and successful criminal defense trial attorney in all criminal defense matters. She provides tenacious representation in both state and federal courts for those facing serious charges of sex crimes, federal violations, drug crimes, homicide, violence, white-collar crime, DUI and more. Ms. Ivanova has also successfully litigated some of the largest violence crimes in Los Angeles.
Even if an arrest has been made, Ms. Ivanova focuses on getting charges dropped before formal charging in court. It is important for a criminal defense professional to intervene early and aggressively, as she does.
Ms. Ivanova is a member of multiple legal associations. In addition to being a tough and fearless advocate in criminal defense cases, she genuinely cares about her clients and fights each case with unparalleled skill and determination to obtain the best possible outcome.
Call 855-LAW-PRO1 (855-529-7761) to speak to Diana now. You may also email her at info@LibertyBellLaw.com.

REQUEST A FREE CONSULTATION