JANUARY 2018
Violation: Sexual assault on a mentally incapacitated adult facing five years in prison and/or $10,000 fine and lifetime sex offender registration
Result: Case DISMISSED!
Violation: Traveling to meet a minor for sex, a second-degree felony punishable by up to 15 years in prison and lifetime sex offender registration, and using a computer to solicit a minor.
Result: LBLG got the prosecutor to change the charge to illegal use of two-way communication device, a third-degree felony, no adjudication, no sex offender registration, and three years of probation.
DECEMBER 2017
Violation: Facing three years of jail for a probation violation on a felony
Result: NO JAIL! Probation reinstated!
NOVEMBER 2017
Violation: Allegations of Fraud, Identity theft, Counterfeit, Forgery, Falsifying documents
Facing: Facing 24 years in jail
Result: Our representation got the case DISMISSED before it was even filed!
Violation: 2nd time aggravated DUI
Facing: 6 months in jail, over 5000 in fines, 9 month alcohol class, license suspension, community labor and AA classes
Result: Our client received NO JAIL, NO LICENSE SUSPENSION, WAIVED FEES!
Violation: Possession of controlled substance.
Facing: 1-year jail and over two thousand in fines
Result: Case DISMISSED!
Violation: Reckless Evading, Aggravated DUI w/ BAC above 24 involving a 3 car collision
Facing: Facing 2 years jail time and thousands in fines
Result: Our client received NO JAIL and was released without having to post bail.
OCTOBER 2017
Result: Facing LIFE for Lewd acts with a minor, child molestation, sodomy and rape, our clients case was DISMISSED before filed!
Result: With our tenacious representation…Motion for Early Termination of Federal Supervised Release… Granted years in advance!
Result: Allegations of Peeping tom violation and invasion of privacy. Facing 1 year jail and over 5k in fines….Case DISMISSED!
Result: Allegations of peeping tom and indecent exposure, facing 1 year jail AND sex registration. With our representation, our client received a trespass and NO REGISTRATION!
SEPTEMBER 2017
Violation: Probation and NO JAIL results for allegations of Child abuse with priors, child endangerment and a 3rd time aggravated DUI!
Facing: Multiple counts of harassment and annoyance with a probation violation, GRANTED PROBATION and NO JAIL!
Result: Facing JAILTIME, Our clients allegations of battery and assault DISMISSED!
AUGUST 2017
Violation: Aggravated DUI with extremely High BAC and prior convictions for the same offense.
Facing: JAILTIME, 2 years LICENSE SUSPENSION, thousands in FINES, ignition interlock device INSTALLATION, alcohol school and class COMPLETION and Community LABOR.
Result: With our effective representation, standard probation, NO license SUSPENSION, NO LABOR, NO JAILTIME, NO device INSTALLATION, NO required alcohol school COMPLETION!
Violation: Felony: Multiple counts of distribution and possession for sale of Child Pornography with sadomasochistic sentencing enhancement
Facing: 21 years State Prison and 120k in fines
Result: 180 days county jail
Violation: Felony: Multiple counts of Possession and Transportation w/Sales of Marijuana & Illegal Operation of a Medical Marijuana business
Facing: 10 years with 50k in fines
Result: With aggressive representation, case DISMISSED!
Violation: Molestation, Rape and Lewd and malicious acts with a child
Facing: Life in prison!
Result: With aggressive intervention, DISMISSED before filing!
Violation: Aggravated DUI with Drugs
Facing: 1 year jail time and thousands in fines
Result: No Jail! Probation
JULY 2017
Violation: Two counts of Child Kidnapping, Child Abduction, and Child Endangerment
Facing: 20 Years State Prison and 20k in fines
Result: Based on aggressive representation, felony charges dropped down to a misdemeanor and client was released same day of initial court appearance with child visitation and contact rights preserved!
Violation: Battery with serious bodily injury and violation of the restraining protective order
Facing: 2 years jail time and thousands in fines
Result: Case Dismissed!
JUNE 2017
Violation: Multiple counts of Sexual Battery and False Imprisonment
Facing: 4 years jail time and thousands in fines
Result: Probation Only!
Violation: Domestic Battery
Facing: 1-year jail time and thousands in fines
Result: Case DISMISSED!
MAY 2017
Violation: 3RD-time Aggravated DUI w/ child endangerment sentence enhancement
Facing: 2 years jail time, 5 years probation, 3-year license suspension and thousands in fines
Result: Case DISMISSED before filing
Violation: Four counts of Assault and Battery, Vandalism, and Reckless Endangerment
Facing: 4 years and jail time and thousands in fines
Result: Case DISMISSED!
Violation: Domestic Battery, Battery with serious bodily injury, False imprisonment and Vandalism
Facing: 3 years jail time and thousands in fines
Result: Probation only!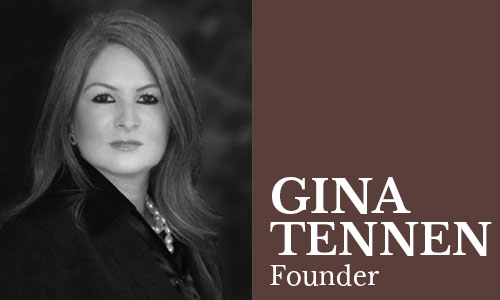 Gina Tennen
Founder
At A Glance
Expert legal strategist.
Experienced in both prosecution and defense.
Relentless fighter for her clients with results to prove it.
Received the National Top 100 Trial Lawyers Award
Featured in Time Magazine's "Leaders of Criminal Defense" in the 100 Most Influential People edition.
Executive Managing Attorney Gina Tennen is a renowned leading advocate of personal liberties. Her meticulous trial preparation and exceptional ability to pursue every possible defense has earned her the admiration of clients and respect from prosecutors, judges, and other criminal attorneys all over the nation.
Lawyer Tennen began her career as a Senior Law Clerk for one of the toughest District Attorney's offices in the country where she gained remarkable experience in juvenile crimes, elder abuse, parole hearings, child abuse, sex and other serious crimes. Her experience at the District Attorney's Office armed her knowledge and case strategy in exploiting the other side's weaknesses for the client's advantage and building a rock solid defense. Criminal attorney Tennen's experience on both sides and brilliant maneuvering throughout is evidenced in her winning track record. In fact, even before earning her law degree, she was instrumental in getting excellent results on several criminal cases outshining her peers.
A consummate strategist and top criminal attorney, lawyer Tennen works tirelessly on many high profile criminal cases. She is known as a relentless fighter who never gives up on any case. Whether the case is hers or handled by another criminal defense attorney from LibertyBell Law Group, no matter how small the case may seem she asserts that every client deserves the right to the best legal representation.
It is her deep belief and what she has built her entire career and lifelong dedication to that there is always hope for every client and every avenue should be pursued regardless of the time and energy it takes. For criminal attorney, Gina Tennen, devoting the finest criminal defense for clients is a habit and talent that you must apply and do all the time.
You demand the best defense. Take hold of your life and speak to our defense attorneys by calling 855-LAW-PRO1 (855-529-7761) now.
Founder Gina Tennen and all the defense attorneys at LibertyBell Law Group uphold that when the bell rings, it rings for life and liberty for all.
Diana Ivanova
Associate Attorney & Director of Client Affairs
Los Angeles Criminal Defense Attorney Diana Ivanova is an Associate at LibertyBell Law Group, who specializes in complex criminal matters in state and federal courts nationwide.
Ms. Ivanova's aggressive defense of her clients' freedoms and rights has earned her a reputation as both a zealous and successful criminal defense trial attorney in all criminal defense matters. She provides tenacious representation in both state and federal courts for those facing serious charges of sex crimes, federal violations, drug crimes, homicide, violence, white-collar crime, DUI and more. Ms. Ivanova has also successfully litigated some of the largest violence crimes in Los Angeles.
Even if an arrest has been made, Ms. Ivanova focuses on getting charges dropped before formal charging in court. It is important for a criminal defense professional to intervene early and aggressively, as she does.
Ms. Ivanova is a member of multiple legal associations. In addition to being a tough and fearless advocate in criminal defense cases, she genuinely cares about her clients and fights each case with unparalleled skill and determination to obtain the best possible outcome.
Call 855-LAW-PRO1 (855-529-7761) to speak to Diana now. You may also email him at info@LibertyBellLaw.com.

REQUEST A FREE CONSULTATION